Women of AvA:
Kristen Ingersoll

Stylist Kristen Ingersoll Talks Fashion, Photoshoots, and her AvA Favorites
Walk into any AvA photoshoot and you'll find fashion editor and stylist Kristen Ingersoll prepping the models, styling the looks, and peppering the AvA philosophy of effortless, confident elegance into each and every shot. As an editor of nearly 30 years, Kristen has that je ne sais quoi approach that has landed her at the helm of some of the most influential titles in fashion. Now, as she continues her work making behind-the-scenes magic at AvA and other lifestyle brands, Ingersoll uses her expert eye and high fashion lens to interpret a designer's dream into reality. We stole a few minutes with the stylist to chat about her collaboration with AvA and what she loves most about the brand.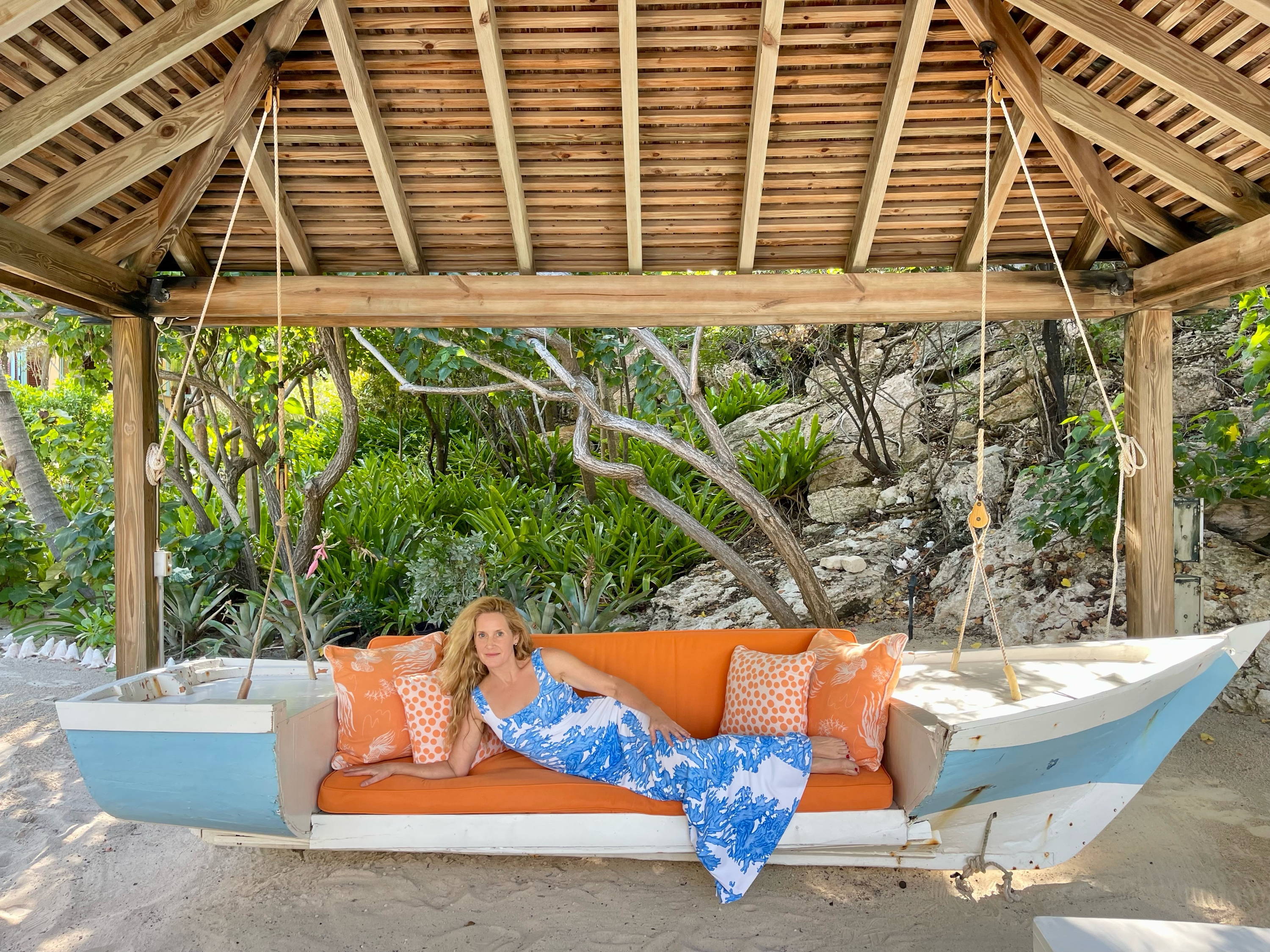 Can you tell us about your fashion background?
I'm formerly the Fashion and Entertainment Director for the global editions of Harper's Bazaar, Cosmopolitan, and Esquire. I did that for 21 years. I was not only securing celebrities and models across titles, but also enlisting the photographers, writers, hair & makeup, while scouting locations and creating the overall shoot concepts. Before that, I was the International Bureau Chief at ELLE and

ELLE DECOR

for the global editions, so I've been working with a lot of titles over the years, bringing editorial objectives and talent to editors and their teams worldwide.
How long have you been working with AvA?
It's been two years now. I love Ala's passion for painting and nature. For example, with the new coral prints in the Tropics Collection, I know she has been devoted to preserving the corals in Antigua. I'm all for protecting the environment in any shape or form, so when you can collaborate with someone who shares your passions, it's extra special.
What is your styling process like?
For every shoot we do, I see the prints that Ala has created beforehand, which immediately sends me along a dreamy path of what kinds of accessories to incorporate for Ala's initial inspiration. I just love this process of bringing everything together. I also look forward to featuring pieces from Ala's personal treasure chest of bold, statement jewelry.
What sets the AvA brand apart in terms of its aesthetic and philosophy?
AvA is a boutique brand for women who celebrate life in vibrant prints! What I love about all the pieces is that they are unique, each print designed by Ala herself. The silhouettes are sensuous; soft on the body and to the touch (like a feather!) yet an overall display of color that leaves you completely uplifted. Also, from a practicality perspective, you can travel with these pieces very easily: they don't wrinkle. You can layer them and change up your look with the various styles. You feel elegant and sexy. I've been taking the pieces to Saint-Tropez and they're just timeless; perfect from day to night.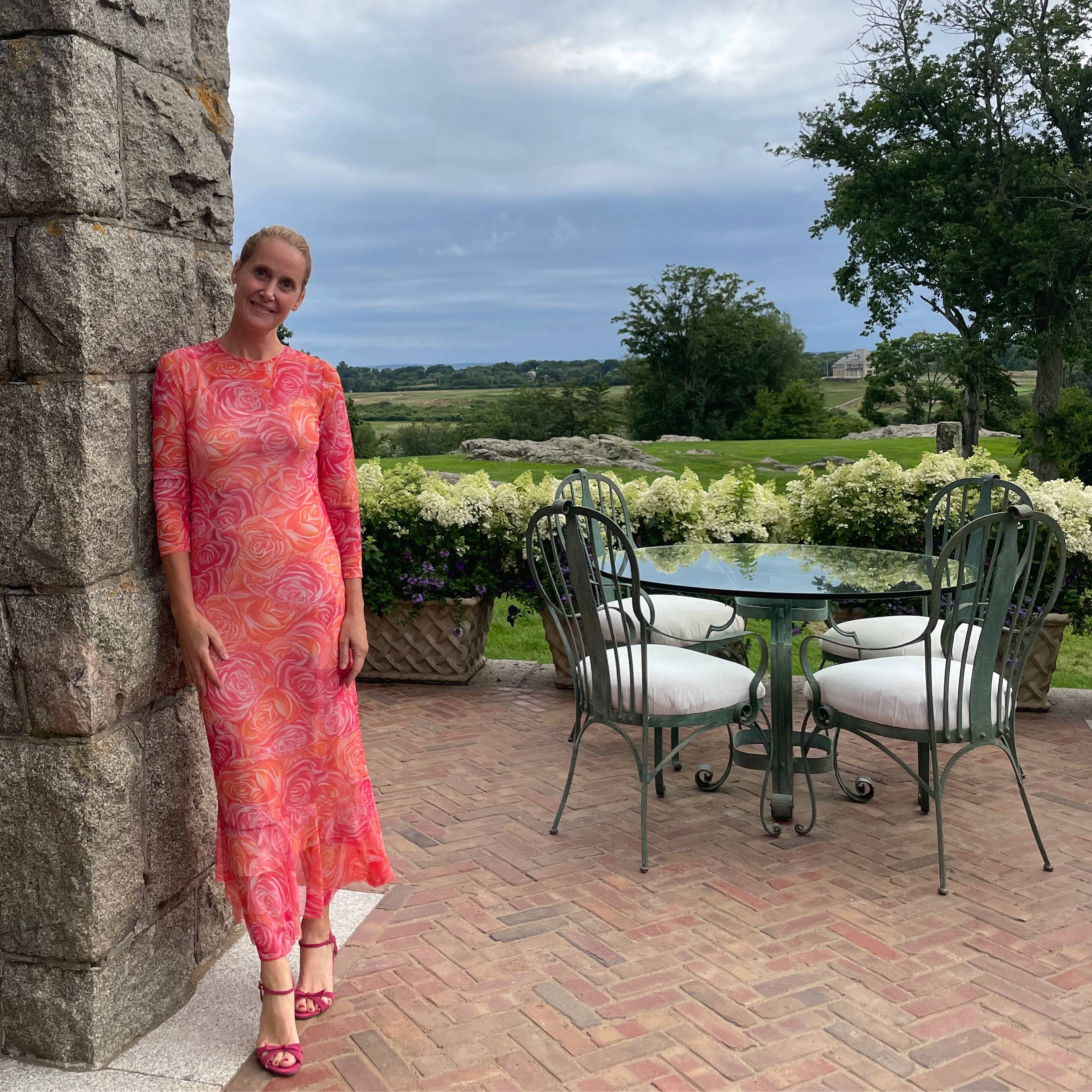 Can you share your favorite AvA styles?
I'm crazy about the Sophie Mesh Dress. I think it's super flattering. It's very easy to throw a slip underneath it or a bathing suit. I also love wearing white, so the AvA Essentials in white are my go-to pieces. The Caterina Tank and the Elaine Pant in white are always flattering and perfect for Europe in July.
Again, going back to what separates AvA from other brands? You will alway delight in a new print collection! It's consistent in that way but always unique. I think it's important that a brand has consistency. So not only is Ala dedicated to her market and to those particular places where we will wear the pieces, but her customers know they're always getting something that fits their lifestyle and overall wardrobe aesthetic. They can go back to find what they love and find surprise in new prints from Ala.
Speaking of prints, do you have any favorites?
I have a deep attachment for the birds in all of the Plumage Prints like Birds of Paradise, Narragansett, White Fantasia, and Dancing Birds. I also adore the roses in the Moraine Print. I have to say I look forward to every single collection. I also love the recent Holiday Collection in the black and white Zampa Bianca and Zampa Nera prints.