Beyond the Kaftan with Melissa Biggs Bradley
In 2007, Melissa Biggs Bradley launched Indagare with a bold vision that travel has the power to transform. In kicking off our new series, Beyond the Kaftan, we sat down with Melissa to explore her most memorable travel experiences, the future of the industry, and how her "nomad gene" has kept her curious all these years.

I was lucky at a young age to spend time in other countries and what those–and every other travel experience I have had—has taught me is that there are so many ways to approach life, so many choices we all have of how to be in the world. From such simple things as starting your day with a breakfast of steak in Australia, or pickled vegetables in Japan or croissants in Paris, to much broader choices like where and how we want to live.

Melissa picks for a sunny Italian Jaunt.

From the minute lockdown happened, I have been worried about the real threat of Undertourism, which is when people drastically reduce their travels and environments and communities that have benefited from tourism are adversely affected. Close to home, we have seen the impact of this on the many lost restaurant, hotel and airline jobs in this country. Further afield, it is also an urgent crisis in the lost livelihoods in other countries and the impact of that on environments.
I am hopeful that people have gained a new appreciation for the gifts of travel, and that they will be more aware of the responsibility we have to be conscious and considered in our choices, recognizing its positive impact but also being more aware of the negative impacts so offsetting their carbon emissions and supporting hotels and operators who focus on giving back to local communities.

Melissa's breezy picks for endless days on the beach.

In recent months we have seen our members put more of an emphasis on bucket list trips, the kind of big travel dreams that they have always wanted to do. Having the privilege of travel removed altogether has made them take stock and decide not to defer the big trips any longer but to seize the moment and get the family together or take that romantic trip to Tahiti that they always wanted to.

Melissa's styles for the most stunning exotic locales.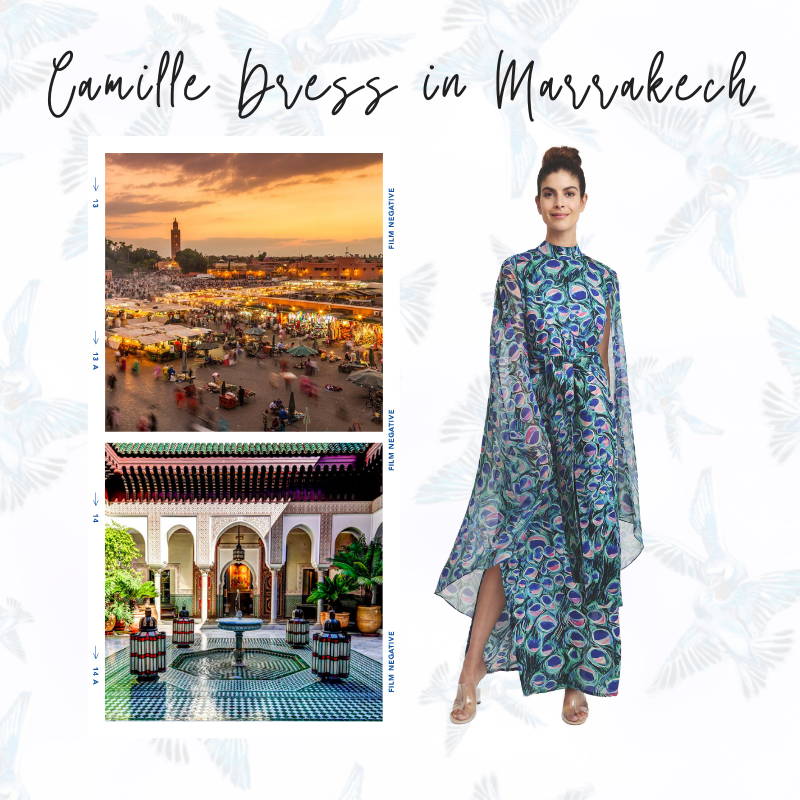 I cannot pick just one. I have been lucky to live in Paris, so it has a special place in my heart, plus no one has mastered the art of living in a refined way as well as the French. Being on safari, I think, connects you with the natural world in a pure way that is something I hope everyone can experience at least once. I have a book Safari Style coming out in the fall on the most exceptional safari lodges, all of whom are making a major impact on wildlife conservation.

A Russian writer once said that Italy is like a dream that we have all had and that we can keep having, or something to that effect, and I totally agree. For our Indagare Global Conversations podcast I recently interviewed Frances Mayes, who wrote Under the Tuscan Sun, and who has lived part time in Italy for years now. I asked her what she thought it was that made Italy so endlessly alluring. She said, "I think it is the sense of the immediacy of life. [Italians] have so much past but they don't throw away the past; they bring it forward with them, so you have extremely contemporary people, but they feel at home in the past and therefore they feel at home in time."
The first time I went to Venice with my parents at 16 was like entering into a fairytale. We stayed at the Danieli, which back then seemed like the grandest palace imaginable. I was so enamored that I wanted to enroll in lace-making school and stay forever. When our children were very young—one and three years old—we rented a beautiful villa just south of Umbria where we spent mornings playing in the pool and gardens and spent the afternoons exploring the region. The children were so welcomed everywhere that even though they don't remember the trip, it was a great first international trip for us as a family.

From Worth Avenue to sun-kissed beaches, Melissa styles these South Florida favorites.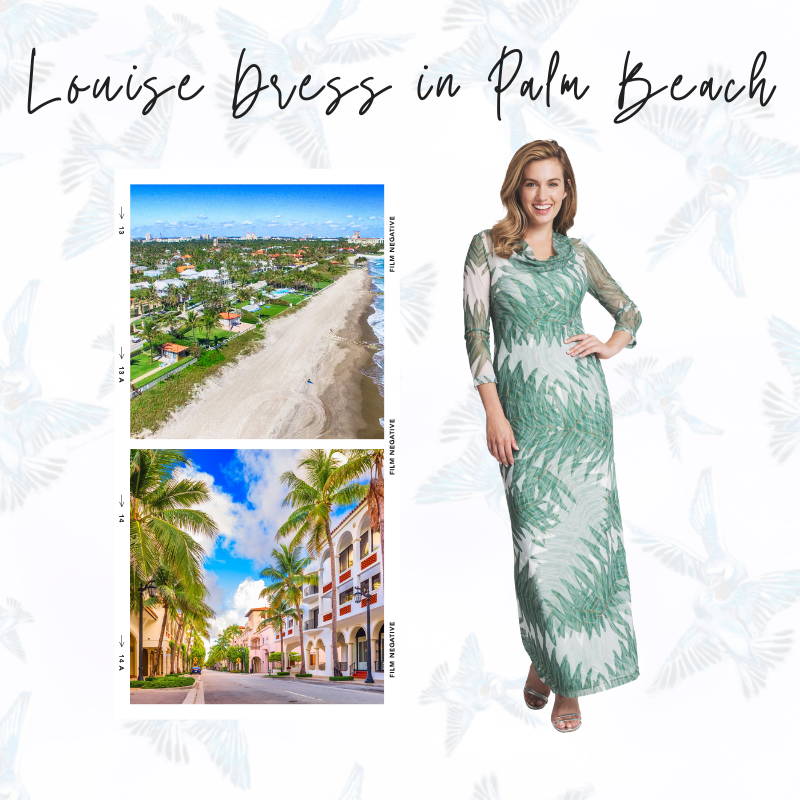 The discoveries. A number of years ago scientists discovered something that they call the nomad gene. It is found in 25% of the population, with a higher concentration in migratory populations, and those who have it feel happier, actually have a serotonin release, when they are introduced to new things or are in discovery mode, and they begin to feel restless if they are in one place too long. I definitely have that gene. At its best travel allows you to discover new things about the world but also about your unique place in the world.

What's your favorite travel memory from childhood?
I traveled a lot with my grandmother and sharing a tent on safari with her when I was 12 is a favorite memory. She was completely at home in the world wherever she went.
What's your bucket list destination?
Antarctica, where I am leading an Indagare Impact Journey this fall. I am a bit nervous about crossing Drake's Passage but I cannot wait to experience what so many have described as the most silent and serene place on the planet.
What destination could you return to again and again?
India. I have been a number of times but there is so much regional variety and history that I think you would need ten lifetimes to scratch the surface.
What hotel truly gets it right, and how?
I went to Amangiri in Utah over the holidays for our first family trip since lockdown, and they have done a great job with health and safety. Each tent is its own bubble and the amazing outdoor experiences from sundowners in the desert to exploring Lake Powell. It was the perfect mix of privacy and pampering.
What's been your most hilarious or even terrible travel experience?
Years ago when one of my sisters and I were staying with our parents at the Gellert Hotel in Budapest, the hotel advised us to go down to their famous thermal baths wearing our bathrobes and bathing caps required in the baths. We took an elevator down to the baths level in our bathing caps and bathrobes and stepped into a small foyer. The elevator man pulled the door shut behind us, and we turned the corner and found ourselves in the middle of a public subway station. Not a soul spoke English, but a kind stranger led us to the bath entrance, and we giggled all the way through the treatments.
What's one thing a hotel concierge would know that you like?
That I don't want the TV playing when I enter the room, and I like oat milk in my minibar.
How do you conquer jet lag?
I don't eat on planes and try to gradually adjust my body clock to the new time zone beginning a few days in advance.
What are some items that are always in your carry-on?
Lots of vitamins and immune boosters like oregano oil and Zicam nasal swabs.
What's your best piece of advice for traveling or exploring a new destination?
Do your homework so you can be sensitive to the culture you are entering, make connections with locals and have context and history, and have a plan, so you can make the most of your precious time, but don't be too attached to your plan, because many of the best moments in travel are the unscripted ones.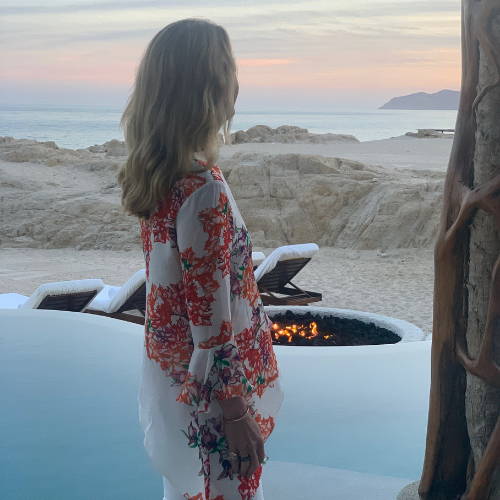 Save $500 off an Indagare Tier 1 Membership and unlock expert, safe travel planning. Start planning your travels safely with an expert Indagare Trip Designer.