Behind the Canvas with Camilla Webster
The artist shares her passion for water, love and a new model of art creation and exploration through NFTs.
In our latest series, Ala sits down with Camilla Webster, the Florida-based fine artist, best-selling author, TED speaker and lecturer. As a former international journalist, Camilla brings a sense of wonder and intellectualism to everything she does, yet is guided by the spiritual side of her craft, particularly as it relates to love and her passion for water. Read the interview below, where Camilla traces her journey from journalist to artist, how she approaches her work, and the power of NFTs as a new set of tools for up-and-coming artists.
Ala: I know you as a successful artist, but I didn't realize started as a journalist! How did that transition come about?
Camilla: I was born and raised between New York and England. My mother was English and came to New York to become a journalist for Time and Life. Our house was filled with journalists. So I grew up in an intellectual, artsy home and I created nonstop as a child. I always had a pen in my hand, drawing all over the place. When it was time to apply to college, I was very fortunate as my parents said, 'Go to art school, go to drama school.' I wasn't sure how one made a living as an artist. I thought my parents were crazy. I went to Europe to St. Andrews School in Scotland and studied art history and modern history. I stared at every painting thinking, can I make that? Eventually, I became a journalist for CBS News in London and New York. I was as much in love with telling stories as I was painting, so I built a career around international journalism.
When I was losing my mother to Alzheimer's, I took some time off to spend time with her and I started painting for her, which I did as a girl. I posted these paintings on Facebook and people were saying how calming they were. The story ended up in the lap of a Ted Talk organizer. So I did a Ted Talk on art's ability to calm one down through work and how it can do that for the public as well. There's been a lot about that now, but back then people were not looking at art in that way. It was entirely innovative. I was fortunate in that I won a place at MANA Contemporary in Jersey City, but it wasn't the right place for a color field painter. Then I visited my dad in the Ocean Reef Club in the Florida Keys and realized I needed to be in Florida. Three years later and I'm full time in Palm Beach and so happy. I have a show at the Sagamore Hotel next month and things are building and growing all the time.
Ala: How do you describe your process and your medium?
Camilla: I mainly paint acrylic on canvas. There's a very spiritual aspect to my work. I usually meditate or pray before starting. It's one of the things I always say came from my work as a war correspondent and journalist. I was stationed in Kuwait, covering the US invasion of Baghdad. I was very attune to violence, particularly violent crime against women. What I realized in this long career covering international affairs was how much love is needed in the world. So I always try to connect to a universal sense of love before I paint.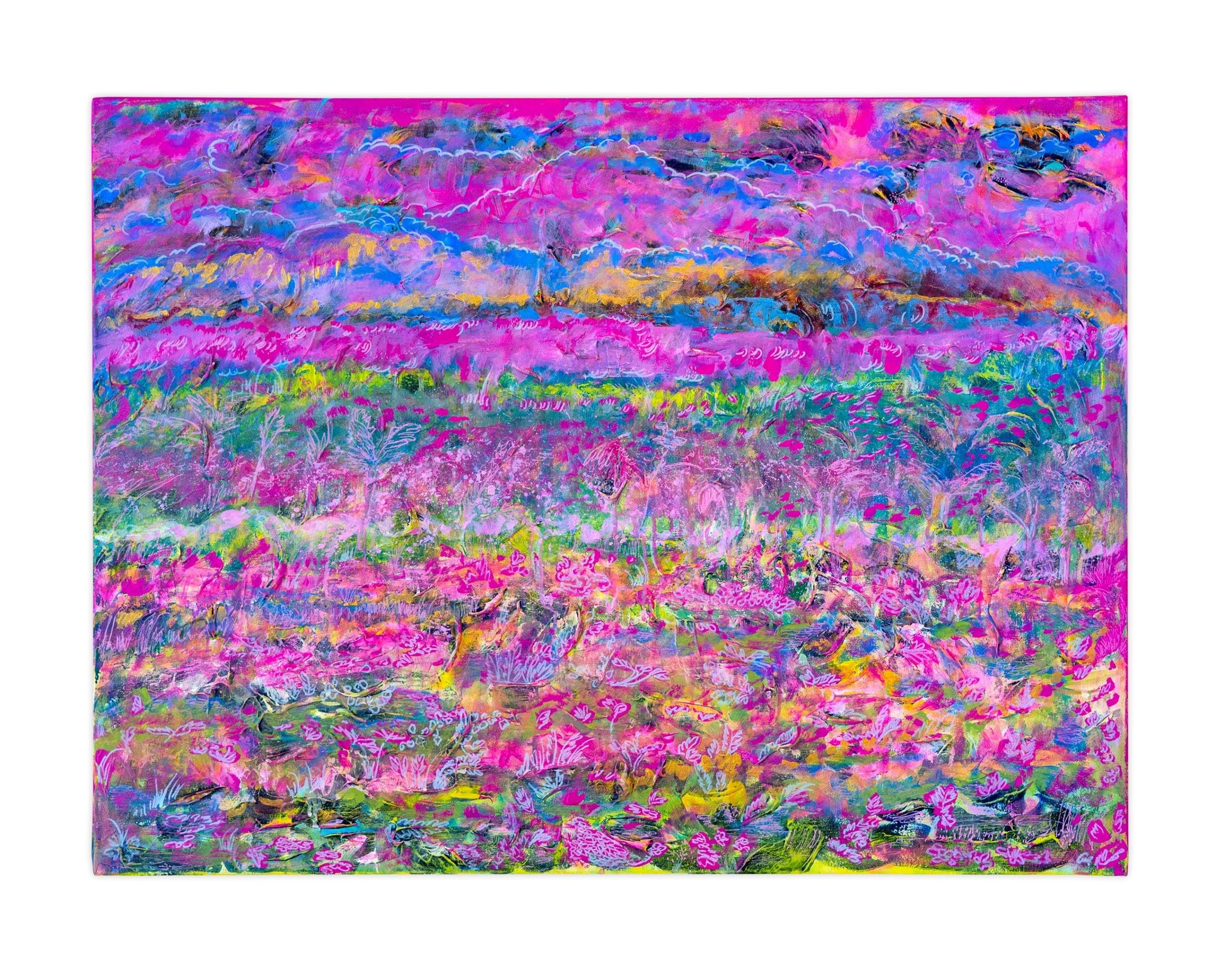 Ala: That's amazing. I've seen your ocean work and your water work. I'd love to see it in person. I could see how healing it would be.
Camilla: Water is one of the reasons I chose to live in Florida. It's humbling. It's honest. We are 80% water. Our earth connects through water. It's essential in all life, it's the great equalizer. It also resonates with our spirit. I did this painting, Unity H2O, which unexpectedly was chosen by the Norwegian Central Bank to place in its office in Hudson Yards. I then turned that painting into a series of NFTs as well, and that's been really interesting. Now the painting is a moving body of water. There's an animated version of it as an NFT, where you can click on information around the body of water I've chosen. You can discover all the beaches in Palm Beach and when you purchase NFT unlockable content, you'll get a story about the area and the environment, which links back to my background as a journalist.
Ala: Tell me about NFTs. It's such a foreign world to me.
Camilla: I went to a meeting at the Aspen Institute in Palm Beach last week and we all left gobsmacked. These brilliant young artists were trying to explain not just the work but the market. An NFT is a nonfungible token, so it's a unique stamp on a piece of work or music or really anything. I think it's important to separate the work of art from the financial machine, but for digital artists, it's an amazing opportunity to have their work seen. Finally they're given respect after years of being animators. Now, people can put their work on a screen in their home and load up images and enjoy several different images. The technology is so progressive and some of these moving images are so gorgeous. It's a new paradigm. Every few generations, artists get a new set of tools, and it's important to look at digital art being an experience in itself.
Then the second part is that digital art happens to be tied to these new currencies and new trading platforms, which is extremely complicated. There's a whole financial universe that even big guys in finance can't decide what it all means. But if you buy this digital art, the price of art can go from $500 to $600 in a few hours, determined by the market. It's a lot to cope with. Then the amazing side to it is that when you create an NFT as an artist, you can set a royalty like a musician, for example. So you can make accessible NFTs that are a lot less expensive than paintings, maybe $2,500, but if someone buys and resells them, I get 10% of the sale.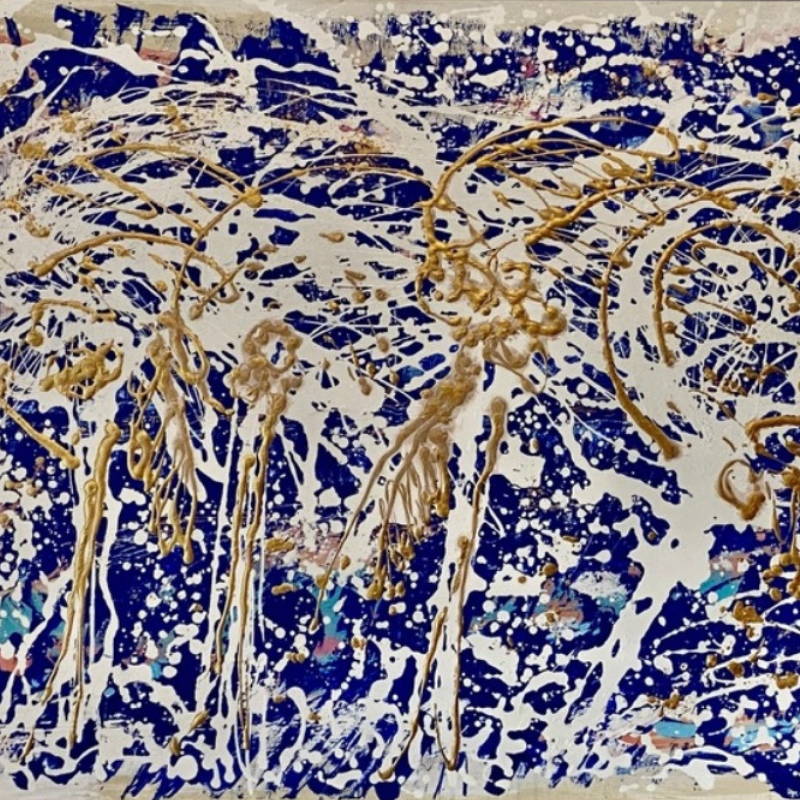 Ala: How do you track that?
Camilla: You can see who bought and sold your piece of art openly. So if you bought my NFT, it would show what you bought and sold it for and onto the next. Just like a large fortune 500 company on the open stock index, you can see who is buying and trading that NFT. It builds community. Artists can suddenly have a massive following. Artists I know have made millions overnight just because they created an image that resonated with people or in a conversation on social media and people bought and sold it over and over. It's amazing. It's not a simple thing, but it's a whole universe that creatives get to explore using new tools. I compare it to the late 1950's, with the birth of acrylic. People thought it was crazy at the time. So if we look at the digital art revolution, these are the tools of our time.
Ala: What's next?
Camilla: It's really exciting. There's a fun little project I'm working on with Kips Bay Decorator Show House, Palm Beach with a designer, but I'm not allowed to reveal who yet. I'm going to be doing that March 1. I also have an exhibit of love paintings in the main hallways of the Sagamore Hotel in Miami, which is a famous art hotel. I'm excited about that. I'm also excited to wear my Ala von Auersperg! I love the Angelina dress.
Ala: Long or short?
Camilla: Long. It's very glam! I'm ready to go to the Breakers and turn heads and knock them on their sides!