Ala Celebrates Summer Al Fresco
Summer is, without a doubt, my favorite time of year and al fresco entertaining is my favorite way of getting together.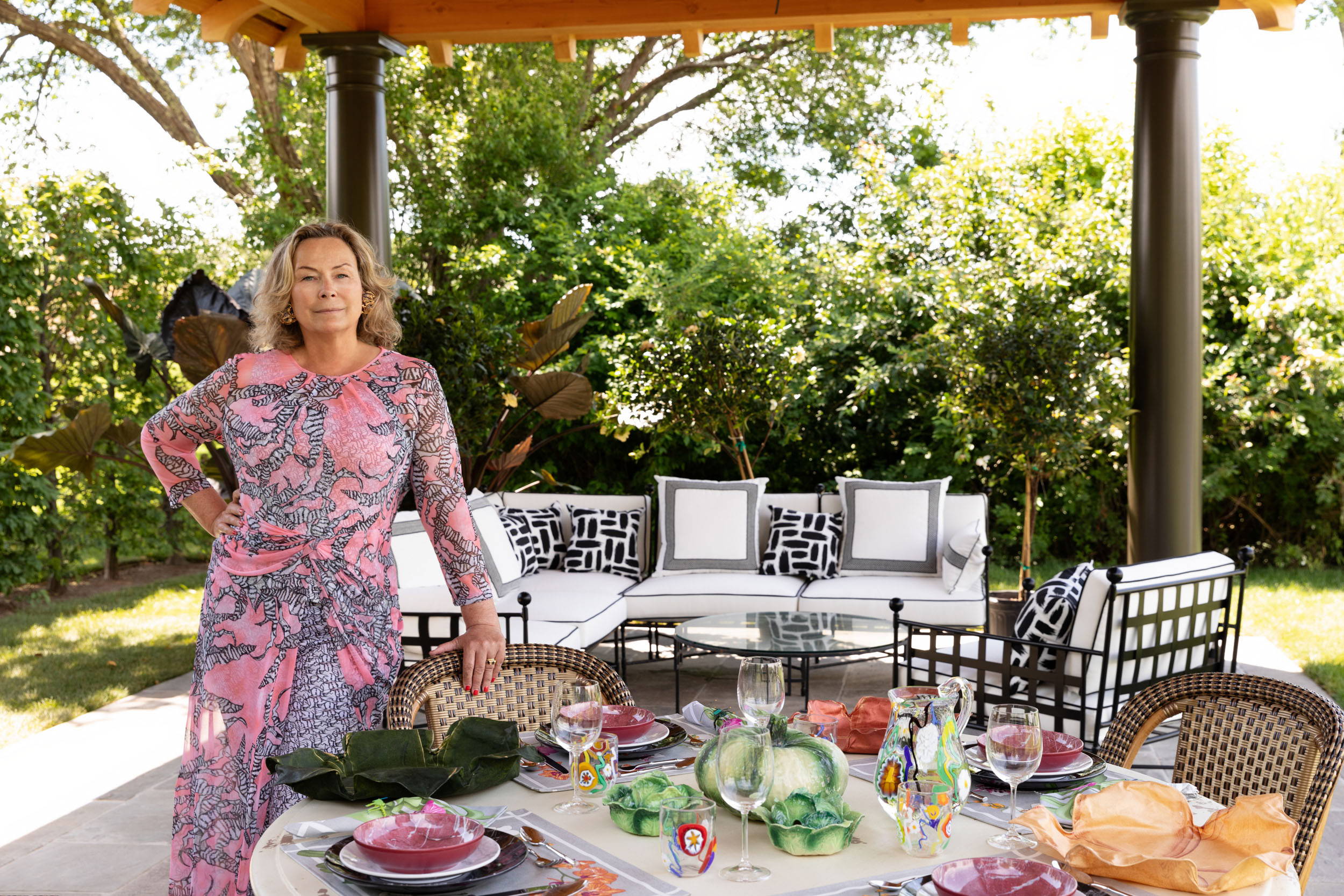 I love enjoying a meal with a small group of friends outside, whether on our boat, under a pergola, by the pool, or on the beach. Everyone is more relaxed, especially right now. It's also a very safe way to enjoy each other's company these days.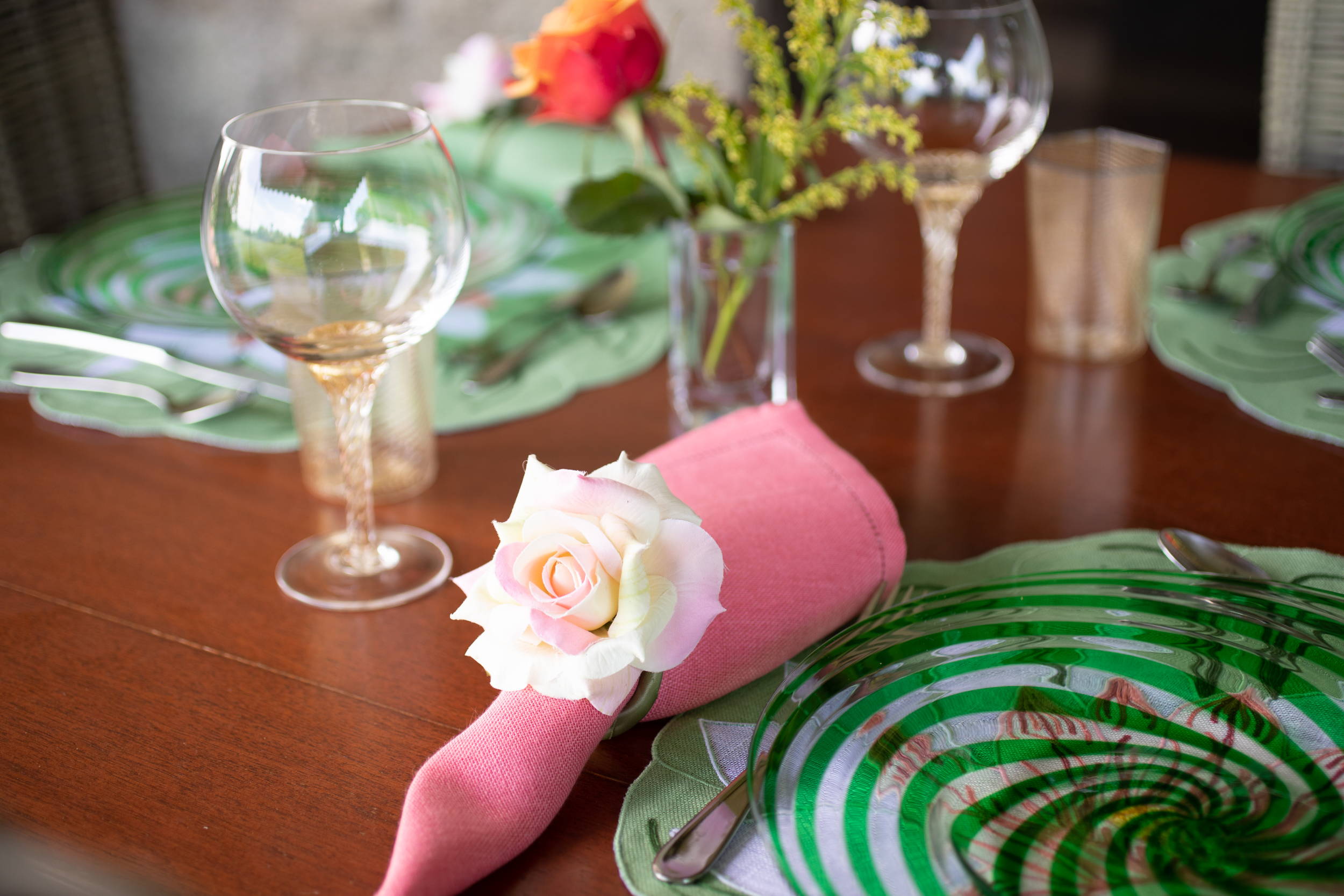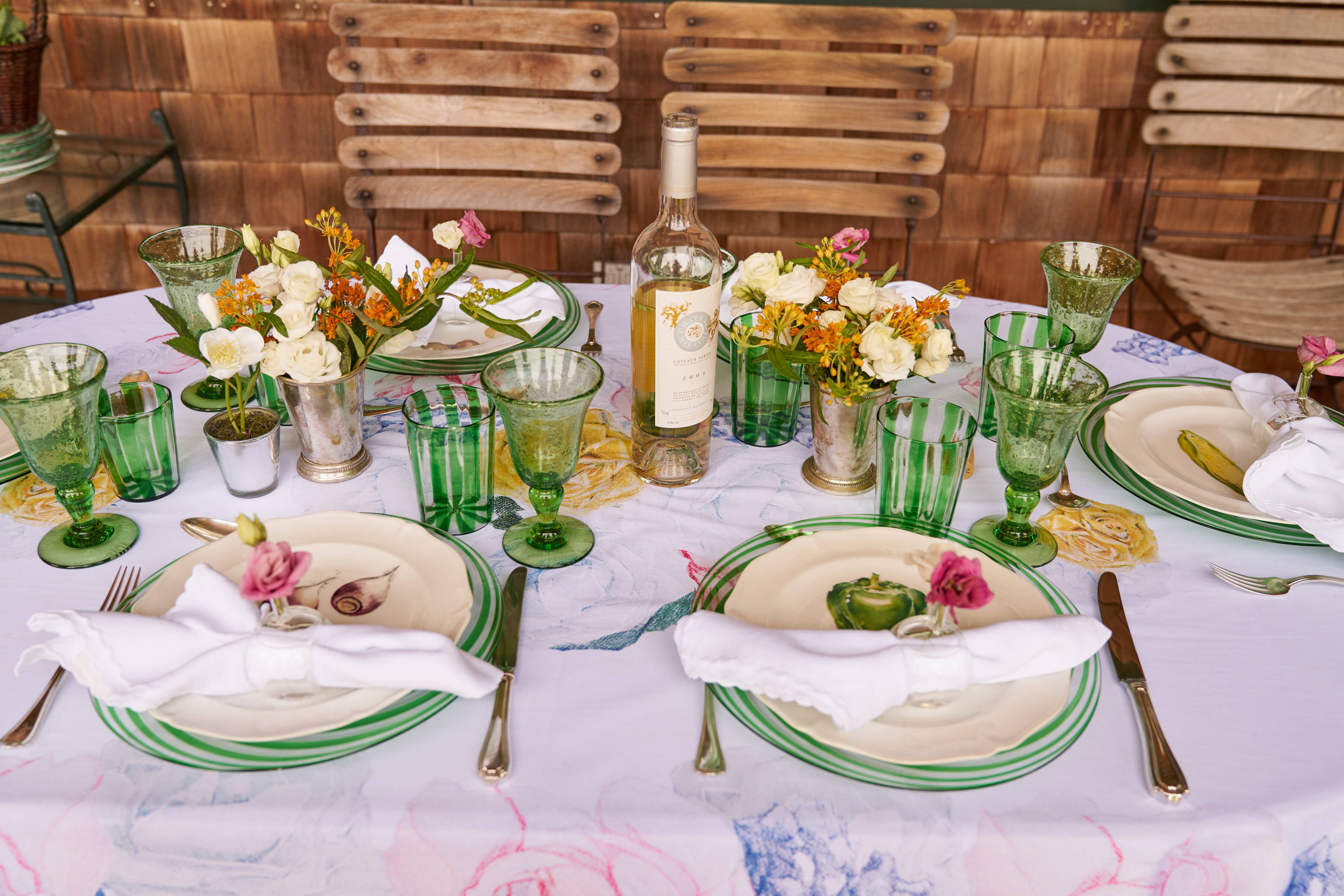 I love to make a fuss over my friends and make a table look beautiful. The perfect tablescape is almost as important to me as the food, and I'd like to think my overzealous planning shows. I also try to dress up a little, because after all what is the point of going to all this trouble if you are going to look like an unmade bed?? Here are my favorite ways to entertain Al Fresco.
Boat
We have an old wooden Huckins Picnic boat (They were used during World War II). We love to bring up the picnic table, put up some shade and just lounge around eating salads and drinking a good rose, cruising along any number of different coves between Long Island and Newport. I love using melamine plates (there are so many on the market). They're shatterproof but nicer than paper plates. I use slip-proof plastic mats on the table and serve big platters of fresh vegetables and chicken or meat. I also bring some iced coffee to keep me awake after the feast.
I like to wear any of my mesh kaftans so I can swim on the boat and then be covered up for lunch. Our AvA mesh cover-ups also keep me cool as we bounce along in coves over lunch.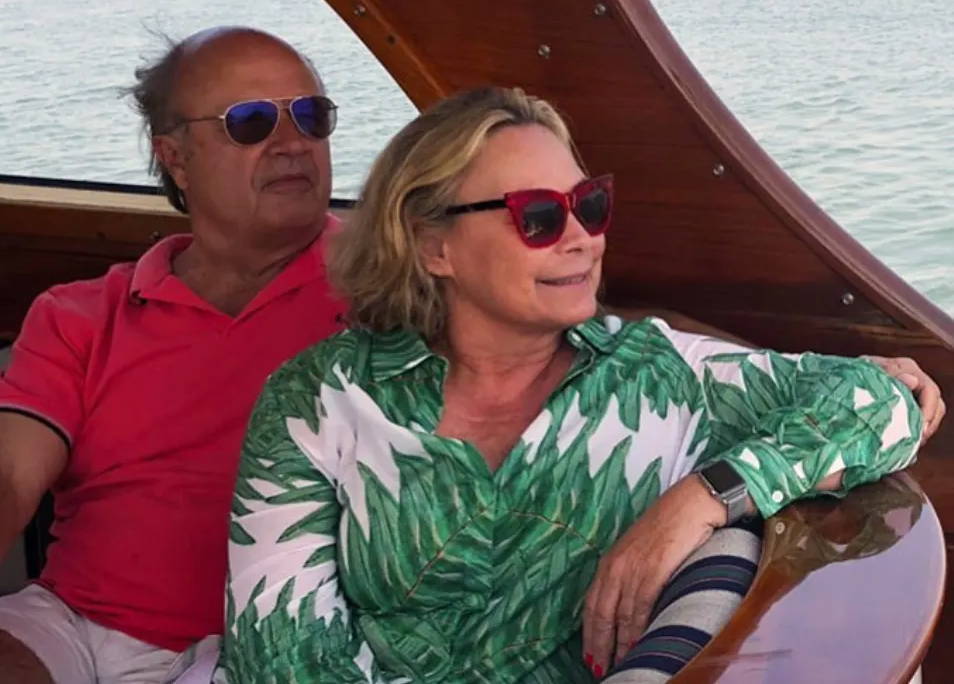 Under the Pergola or on the Porch
We love dining under the pergola. We use strings of light to illuminate the surroundings as well as battery operated candles to light the table. It's important to have enough light while entertaining al fresco. I love the Luminara flickering flame lights. They almost look real. In terms of tablescape, I'll occasionally bring out one of my own designs that I had printed on a tablecloth. I like to use rattan chargers underneath a pretty plate, like swirled glass plates by LagunaB. I cannot do without flowers, so I try to pick whatever is in season and around.
For this setting, I'll wear my knit Elaine pants, either with a simple Diane top or a white blouse or sweater.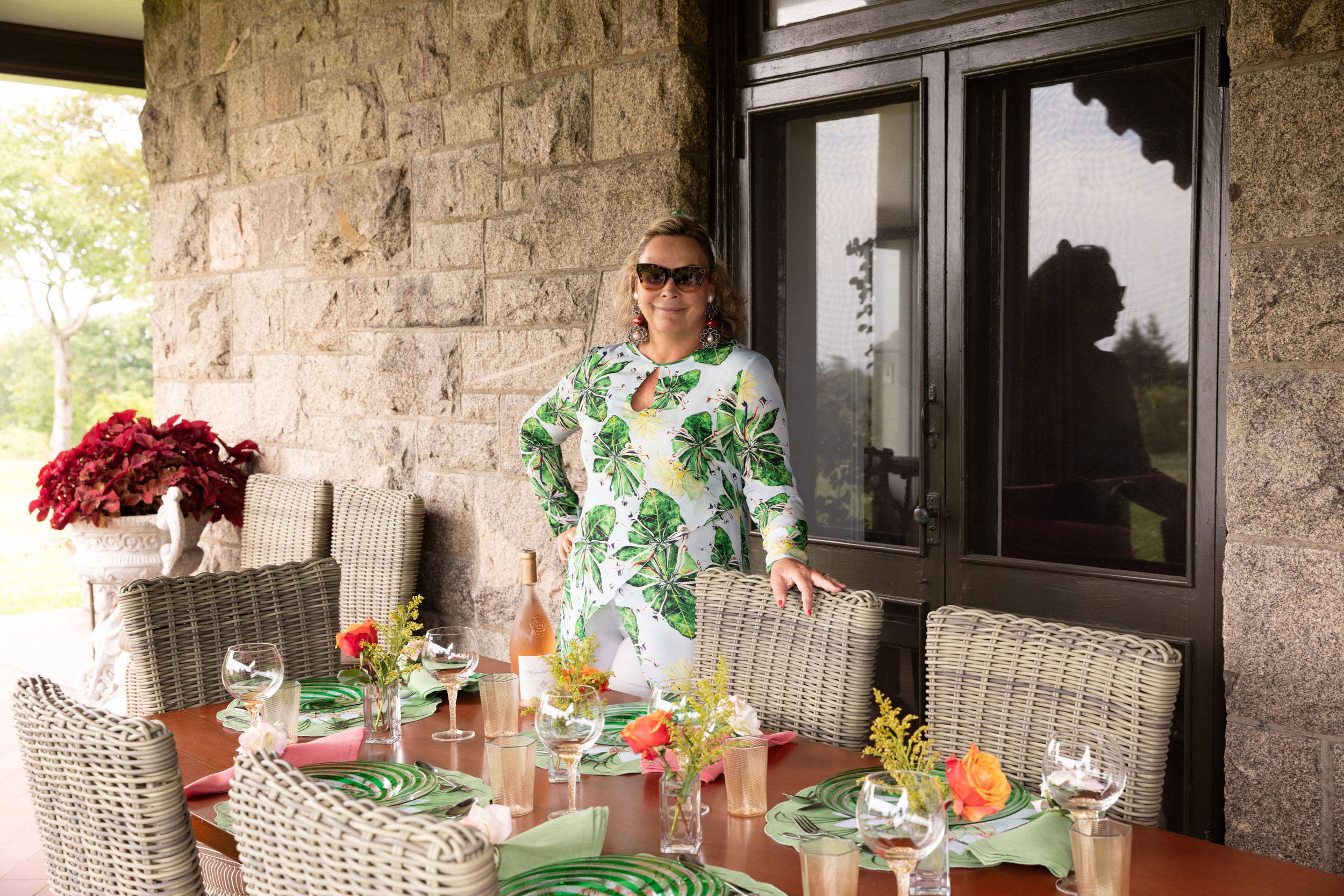 Pool
We have a small table for six under the pergola but by the pool. It is magical at night. I use tablecloths with original AvA prints and Majolica plates by Deruta. Terracotta plates just feel right outside. If you can't already tell, I'm a bit of a tabletop junkie. I love to find new combinations to mix into my table linens and plates and join the pieces I've inherited from my parents. Again, lighting is not an afterthought, but rather incredibly important. I like to find little lanterns and dot them around the table with battery operated votive lights.
My silk shirts, like the Kate and Ala blouses, have been doing double duty in the evenings this summer, especially when it's been a little cool. As the summer progresses. I look forward to wearing an Alma kaftan or some of my Rachel toppers over my printed or white long Lavinia dresses or knit Elaine pants.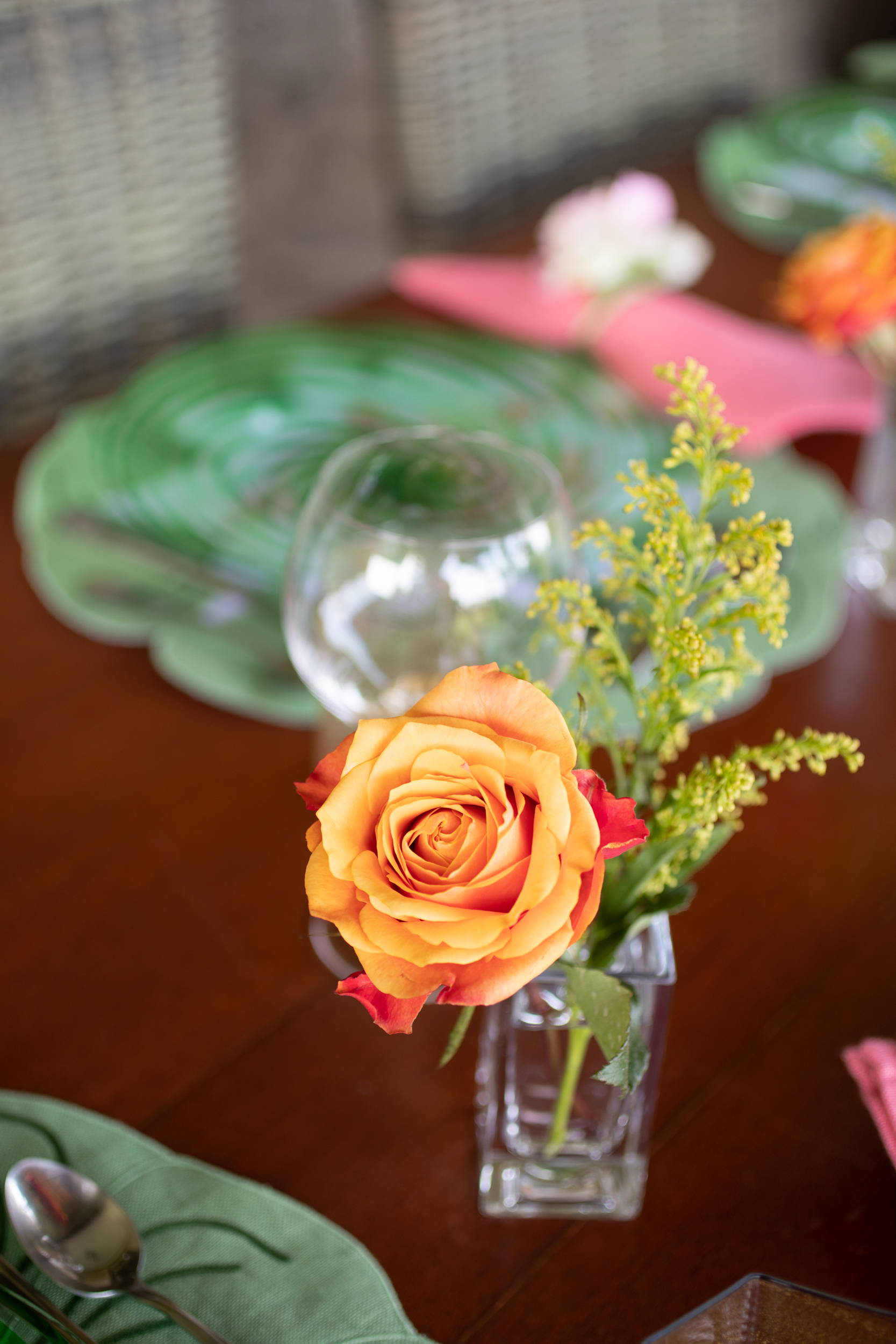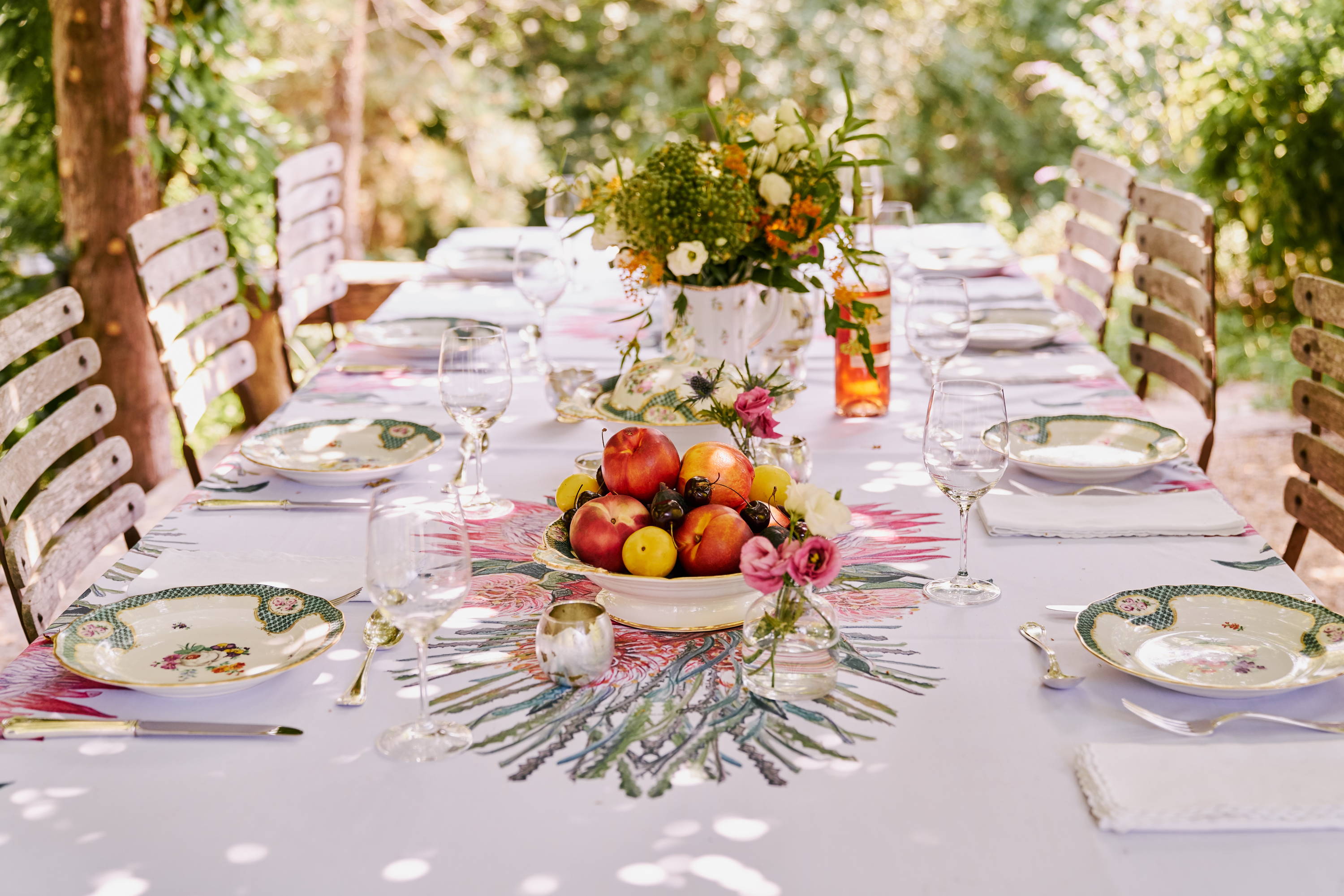 Beach
Some of my favorite outdoor memories have been at our trademark Isham beach picnics. The preparation for these large family events are epic. My husband made a large iron grill to place over a fire pit in the sand. We ride our Jeep onto the beach and pack it with hamburgers, hot dogs, corn, sodas, wine, beer - you name it. The digging of the pit and the preparation is half the fun. There are always surprises along the way (we've been known to forget things or get stuck on the beach) but it's truly a highlight of summer.
Here, my Elaine pants and a sweater are my go-to pieces. They're easy to roll up and they're comfortable to sit in. They're also perfect for enjoying s'mores under the stars - the sweetest ending for an al fresco evening.