Ala's London Travel Guide
Everywhere she's going and everything she's doing in this iconic city.
Every fall my husband and I stop in London for business and to see family and friends en route back from another adventure. We've been lucky to visit almost every year just as the Christmas decorations go up on the major shopping streets and in the big hotels. I am articularly childish about the wonder of Christmas decorations. I come by my love of Christmas honestly as both my mother and grandmother were wonderful Christmas aficionados. I find a visit to Claridge's particularly worthwhile and magical, whether for tea or a drink at the bar, just to see how they have decorated their lobby.
This year I asked a friend, travel specialist Kip Keenan, to create the perfect three-day pre-Christmas itinerary. I wanted to see major art exhibitions, have lunch with friends, walk around town, and catch a musical.
Ala's London Holiday Hitlist: Culture
Lucian Freud: New Perspectives at The National Gallery: The British artist Lucien Freud's exhibition showcases the evolution of his work, from his fascination with the two-dimensional picture plane, to realism, and his experimentation with brush strokes to express emotion. His selection of subject matter is sometimes difficult, but there is no question that he can grab your attention and capture your emotions.
Once you walk out of the gallery, you'll be right near the Old Masters, specifically Leonardo Da Vinci's Madonna and the Rocks. It is just a joy to see this master's work in person. The other blockbuster show of the season is the Cezanne exhibition at the Tate Modern. It is a fascinating show also covering his entire career. What a genius. He was always pushing the boundaries in his use of line and color. I could have spent days soaking it all in.
Tina, The Tina Turner Musical: I love to go to the shows in London, and Tina was just perfect. It was a fun, light night out. We also heard about the Abba Voyage, which is supposed to be the best musical in town. They use avatars to portray the Abba singers in their youth. Apparently the real Abba band members collaborated with the production so you have their dancing but with younger avatars. I heard the real band members come out in the end. Tickets are very difficult to come by and I hear it's a limited run!
Ala's London Holiday Hitlist: Dining
Before heading to the theater, we had the perfect pre-dinner at the Ivy Restaurant. It was just my husband and I and we splurged a little on caviar, which was fun. We went to more of our favorite restaurants in between with friends. Lucio on Fulham Road is a must for us. We have been going there for many years. It's right in the middle of great home shopping and has great Italian food. We always run into people we know who either live in London or are coming through. Scotts Restaurant in Mayfair is also a London institution and definitely worth a visit.
I otherwise spent time wandering around London to places I had never been. It was fun to see the canal at Maiden Vale Tunnel, sit under the gorgeous palm tree at Mount Park and wander the atmospheric streets near the now famous Hertford Club. Who knows? Maybe they'll inspire my next print.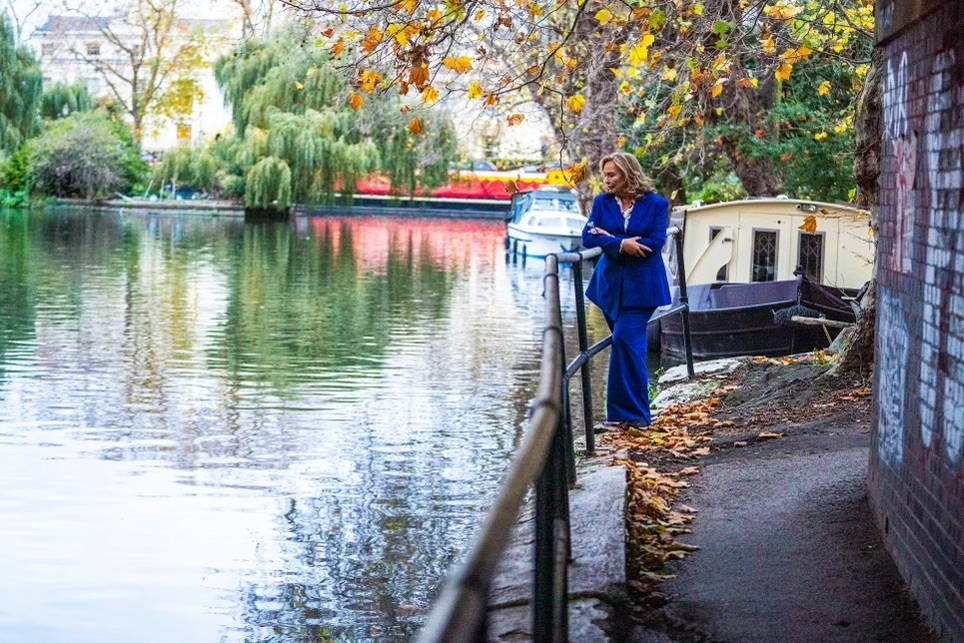 Ala's London Holiday Hitlist: Shopping
Finally, no visit to London is complete without our visit to the wonderful bookstore Heywood Hill. Piles of books grace the center table as you walk in. You'll find editions you can't find in the States, as well as old classics and rare books. It has a bit of a Hogwarts feel to it. We have often done most of our Christmas shopping here before throwing in a few guilty purchases of our own. The store ships to the states, which is a huge plus in my book.